Digital Drop-Off Photo Booth Experience!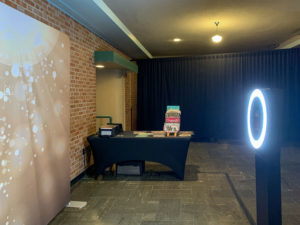 Price range: $660-1330
The Digital Drop-Off Photo Booth is a flexible photo booth experience option creating digital images deliverable to guests via email, text, upload to social media, and file downloading.
Digital Drop-Off Booth setups range from simple (just the kiosk with camera/lighting) to complete (kiosk, props, and professional backdrops). We can assist you with the best possible options to fit your needs*
Images from the Digital Drop-Off Booth are uploaded to a live gallery for everyone at the event to see and for guests to share.
The Digital Drop-Off Booth does NOT include the ability to print images - it is strictly digital.
*Pricing based on total time, location and any available options you'd like to include
*This booth is ONLY available in a 60 radius around Des Moines at this time
Click the button below to contact us so we can get full details on your event and provide you with a full quote. We'll provide pricing based on what works best for you and your event.